Analytics
Running a law firm based on "gut" decisions may feel right but may not get the desired results. Law firms that use case management platforms like Neos have rich repositories of data that, when fully leveraged, can help improve their firm's health, stability, and success. Take advantage of this incredible trove of knowledge to ensure you're maximizing your firm's efficiency and productivity.
Advanced Analytics (new Neos product!)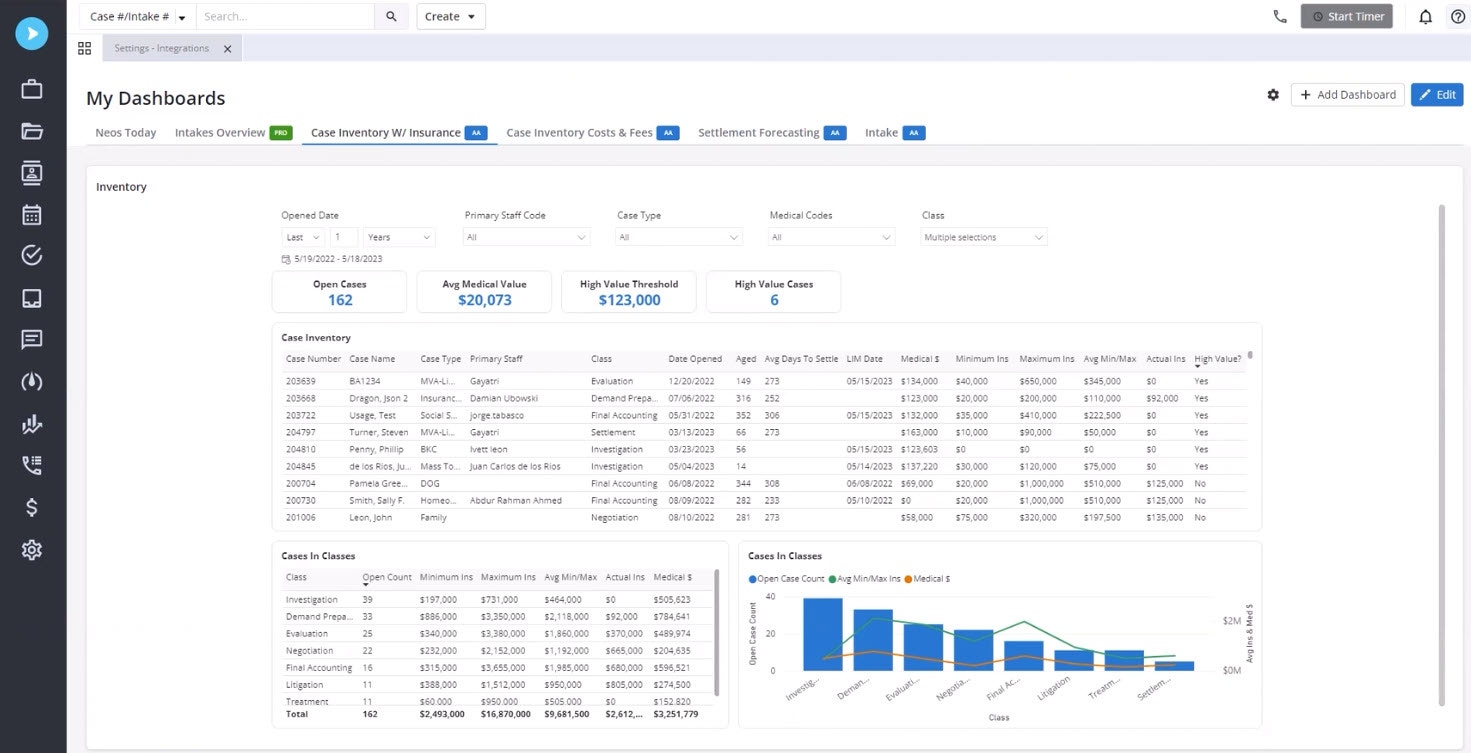 Assembly Neos allows my law firm to be extremely efficient, which allows our firm to provide excellent legal services to our clients.
Paul Hernandez
Kalfus & Nachman
New Neos product!
Advanced Analytics
Leverage the next generation of analytics that goes beyond reporting on data points from a single point in time. Powered by a lake of firm historical data, Advanced Analytics in Neos will visualize firm, group, and individual performance to help boost productivity, efficiency, and profitability. You can forecast revenue, analyze historical trends and perform advanced calculations to inform data-driven business decisions. It's time for your firm to level up and maximize your profitability.
Contact Sales or your customer success manager to learn more.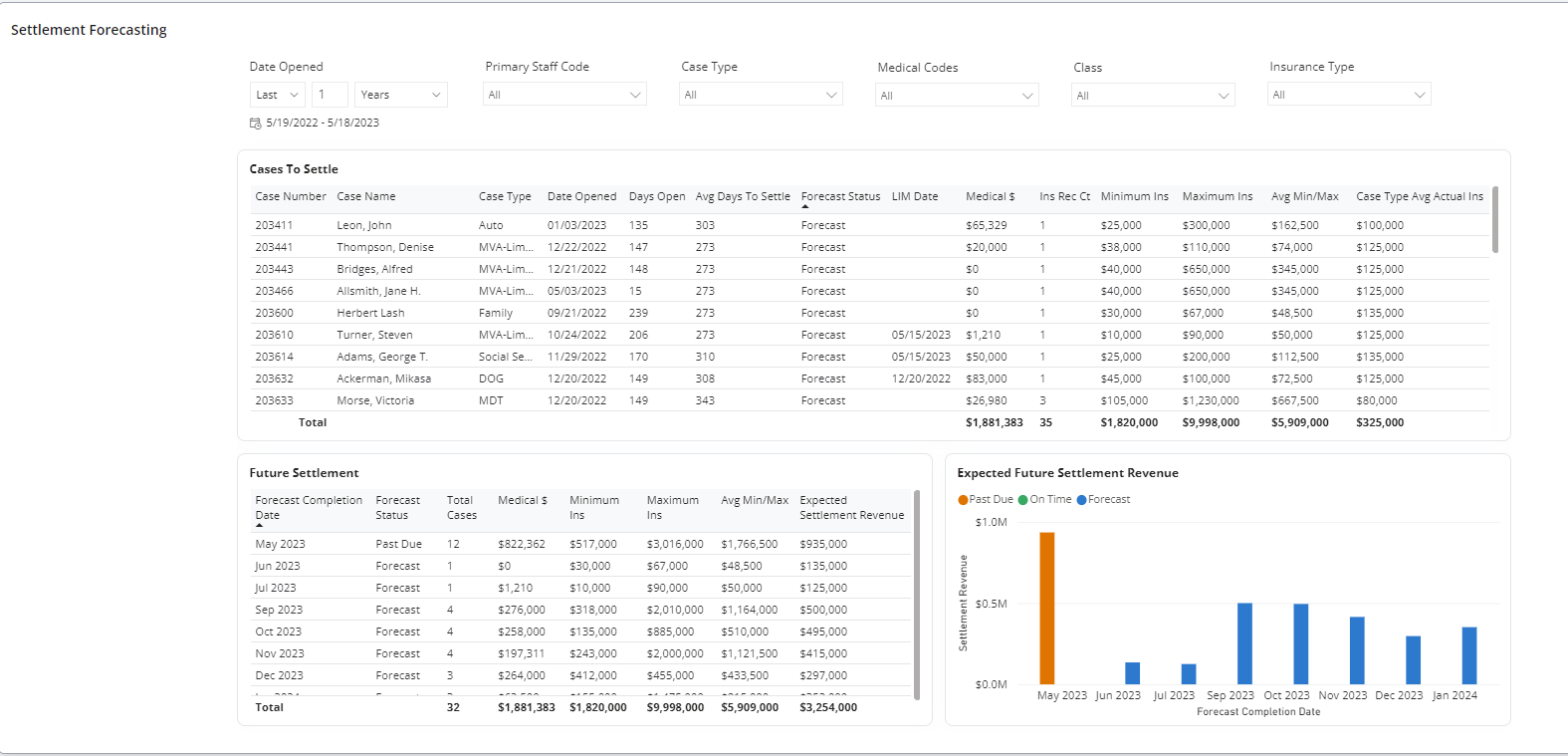 Advanced search
Neos' robust Advanced Search feature allows you to create reports for any record type or data point. From Case Type to Staff to Case Value to Checklist items, it's all at your disposal. Once you've determined what data you want to report on, you can use advanced filters to further define results (Contains, Equal, Is Blank, Is Not Blank, Not Equal, Starts With, etc.) and use filter logic (AND/OR) to create relationships between criteria. Pro tip: you can even use Advanced Search to bulk update records and generate documents!
Add as many criteria as you want to drill down into the weeds, then save your report to your Neos Today screen so you'll always have the information you need to make critical business decisions at your fingertips.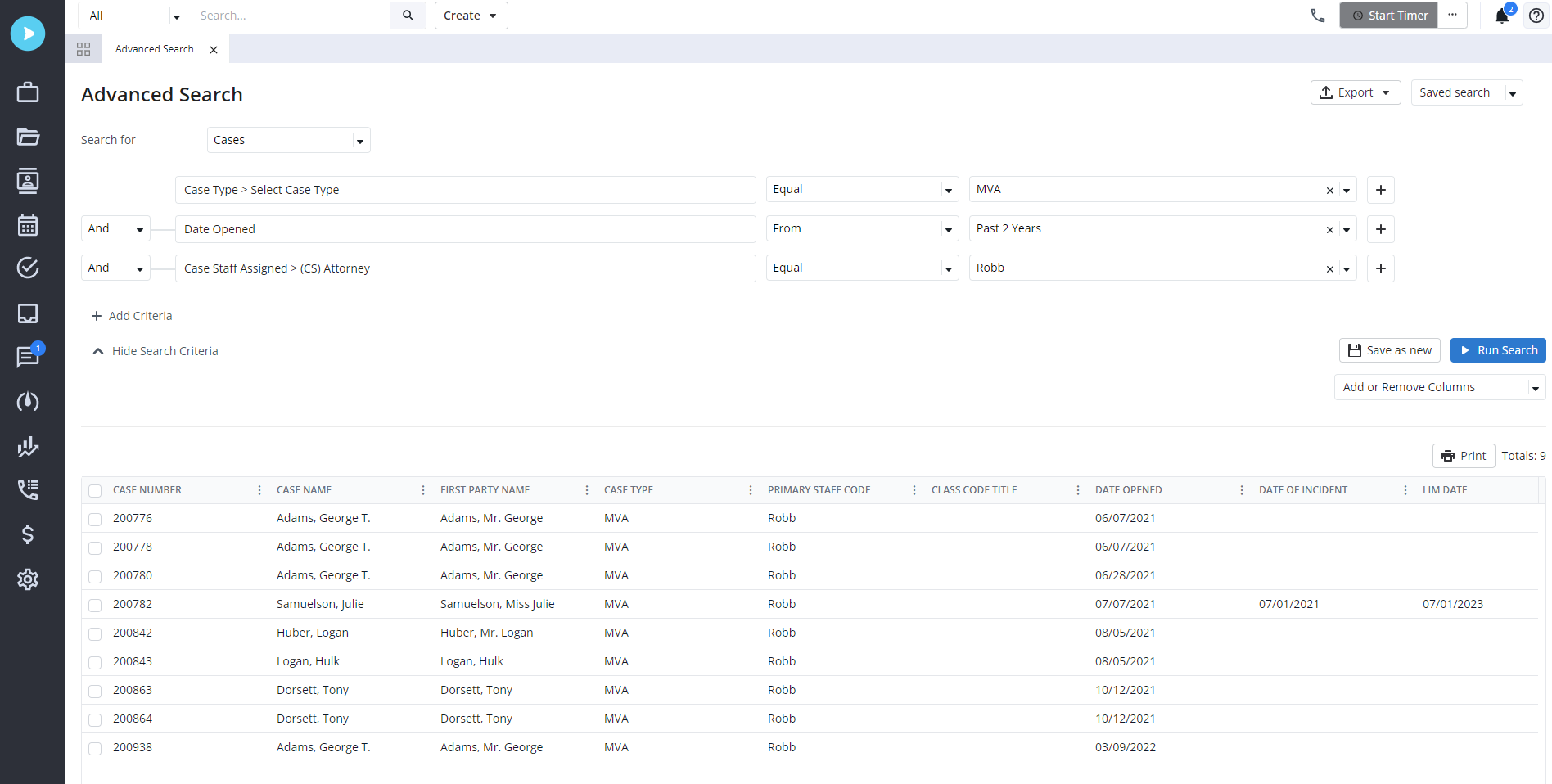 Flexible reporting
Neos reports are fluid and fully customizable. Start with a Neos master template that you can modify to suit your needs, or create a report from scratch using Advanced Search. You can add, remove, and sort by specific columns in your report and drag them around, then filter by multiple criteria to get the data exactly how you want it. Get the insights you need with operators like Sum/Min/Max/Average. Adjust filters while previewing results, export to CSV file or PDF, or print it out. You can even save any changes as a new report and favorite it to have all your top reports handy.
Leverage interactive charts that allow you to click into data sets for a more granular view. The data is there for you; it's easy to set up reports that will help maximize your firm's performance.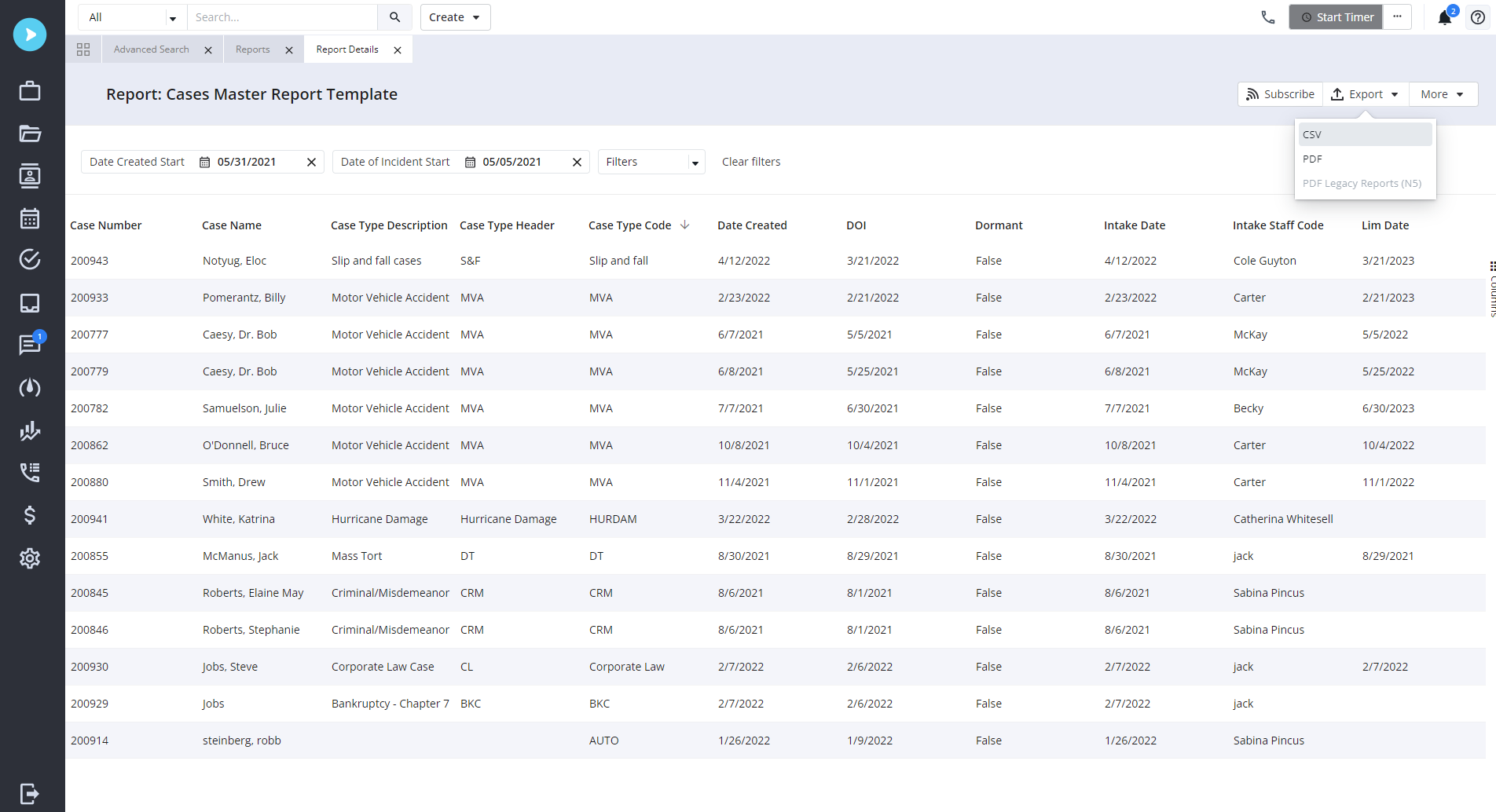 Create and access custom dashboards for all data within Neos
Build as many dashboards as you want and populate them with related reports, then share them with other team members. Add multiple charts and customize views. For example, you could build a dashboard on firm health that includes tiles on the number of cases in each stage, new leads collected over a rolling time period, resolved cases that have been paid, and more! You can also mix and match tiles with reports to create a view of both new cases and intakes in the last six months in the same dashboard.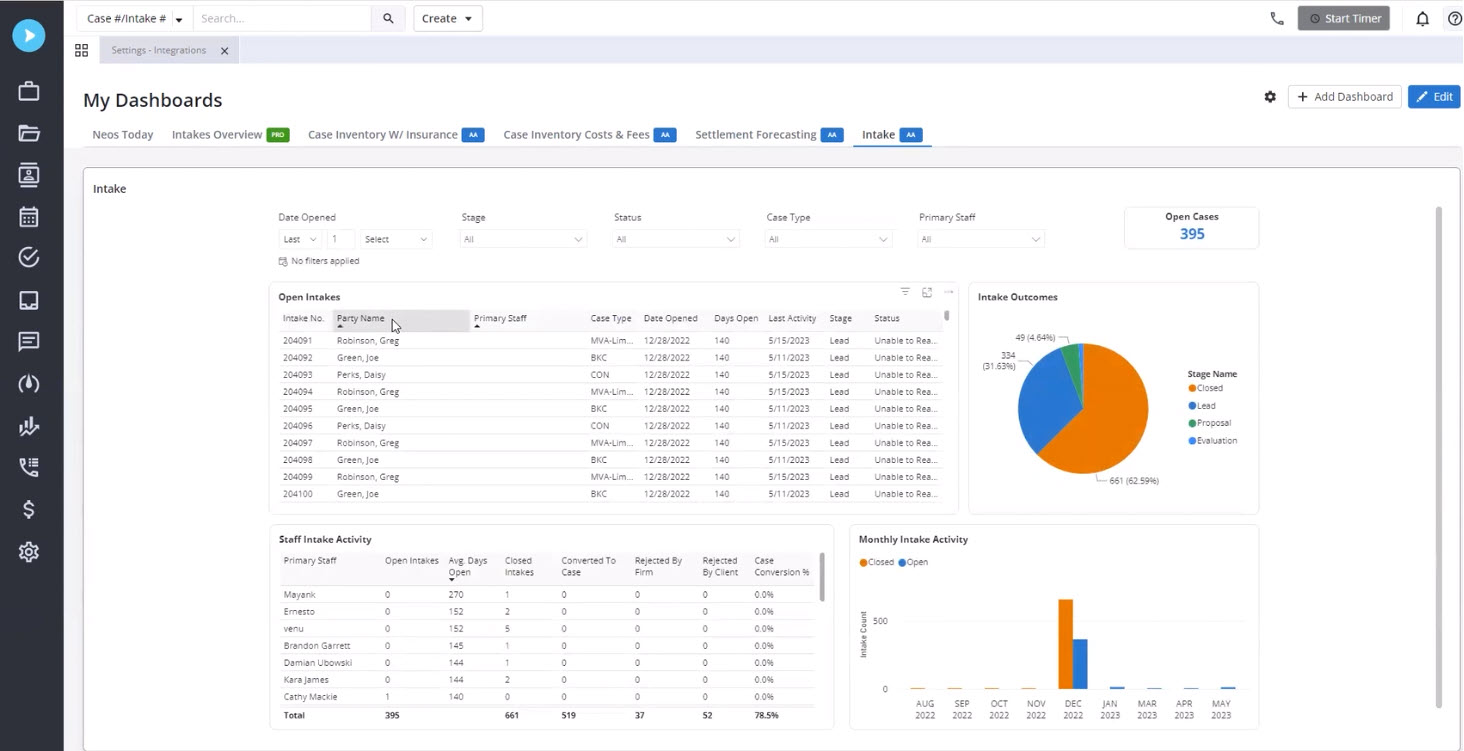 Automated subscriptions
Set up automated report sends at a predetermined cadence. You can subscribe anyone you want to these sends, saving your team hours of time they would have otherwise spent manually creating the reports!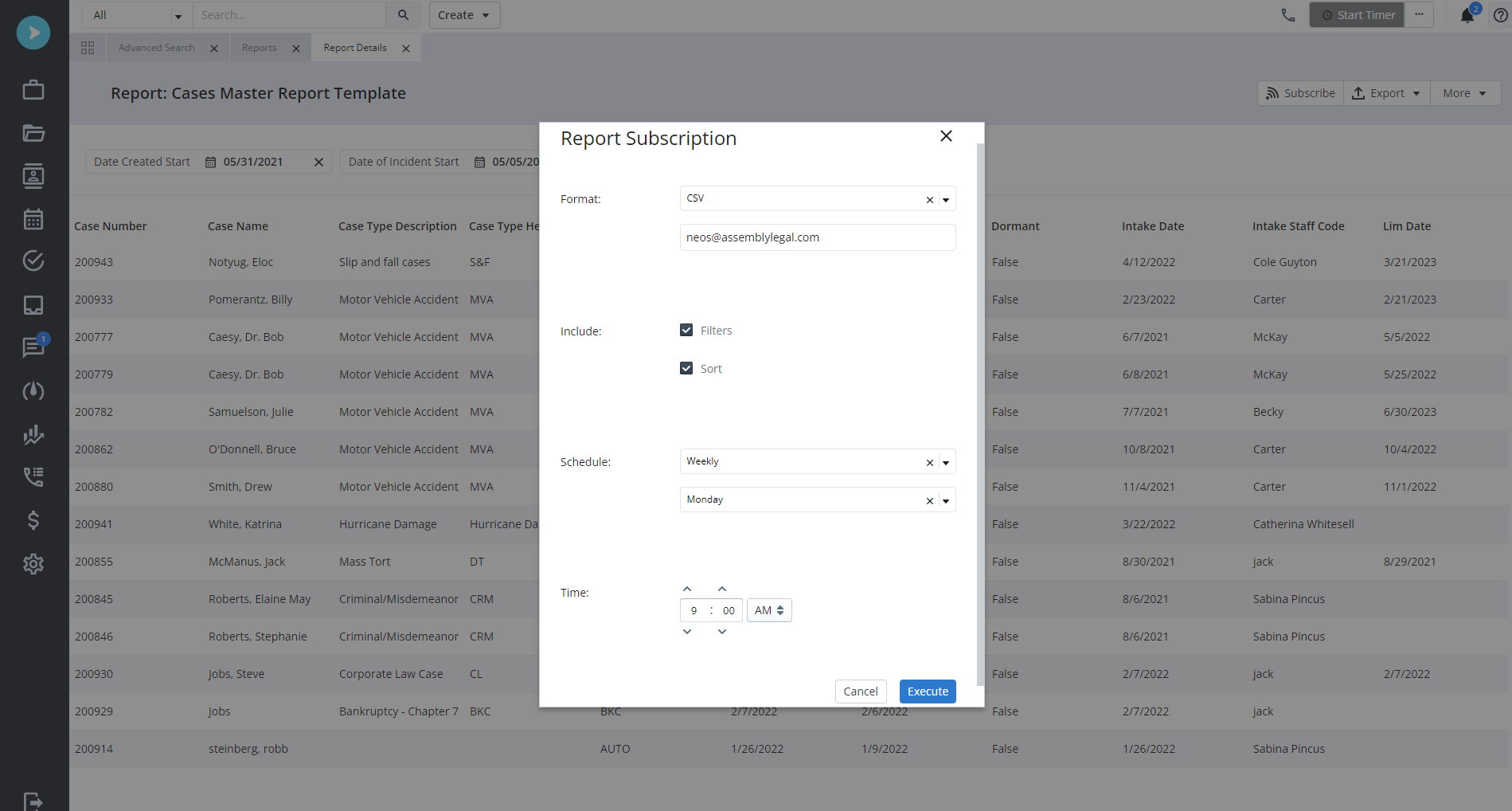 Permission-based access
Ensure that your reports are accessible only to those who need to see them with permission-based access. You can limit access to individuals or groups and update at any time.